Echuca Wedding Photographer
Kris + Meaghan
Oh my gosh, Meaghan, you are the sweetest person in the whole entire world. I just have to start with that.
Meaghan contacted me almost 2 years ago, and it was one of those weddings that was booked in so early it was extra special when it FINALLY came. These guys were just so easy to deal with, and as I got to know them better I could tell they were just the most relaxed, easy going legends on the planet!
---
I started my day off with the boys at the most beautiful hired home in Echuca. A cute little white weatherboard with THE best natural light! Kris had his Groomsmen, as well as his parents there an the mood was super calm.
A special moment in the morning (below) is when a butterfly landed on Kris' hand. The boys said this same butterfly had been hanging around all morning, and almost seemed tame. I don't know if you believe in it, but butterflies are a symbol of loved ones who have passed away, and I wondered if this was a loved one who was making their presence noticed. I certainly felt it.
Once the boys were all done, it was time to head over to the girls to see what they were up to!
I found the girls all in matching robes at an equally beautiful hired home not far from the boys home. The back of this home was basically all glass and had the most gorgeous views of the bushland behind it.
They had the tunes flowing, and I was blown away when I heard Sina (one of the Bridesmaids) practising her singing. I genuinely thought it was Beyonce coming through the speakers, but nope. It was Sina.
After a cheeky glass of bubbles in their robes, Meaghan went upstairs to get dressed with her Mumma while her Bridesmaids stayed downstairs to do the same. You see, the Bridesmaids hadn't seen Meaghan's dress – So the above photo is so cute because it is the moment Meaghan's girls saw her in her dress for the first time. What a cheer squad!!
I have to say, Meaghan chose very well with her BM's.
Once everyone was dressed and ready to go, the girls jumped in their vintage cars and headed towards the Echuca Aquatic Reserve where the wedding ceremony was all set up, and Kris was ready to see his Bride.
Meaghan was serenaded down the aisle by Tom Tuena as Kris watched on intently at his Bride.
The ceremony was stunning. Just beautiful.
As the newlyweds signed their wedding certificate, Meaghan's Bridesmaid and friend Sina sang 'Songbird' by Eva Cassidy and I think the whole world stopped for a moment. Goosebumps.
Once all the formalities were over, it was time for some Bridal Party fun. We took a few snaps at the Aquatic Reserve, and then drove off to some of my favourite places, the stunning Morton Bay fig tree at the edge of the great Murray River, and the port of Echuca where 'Lovers Lane' is found.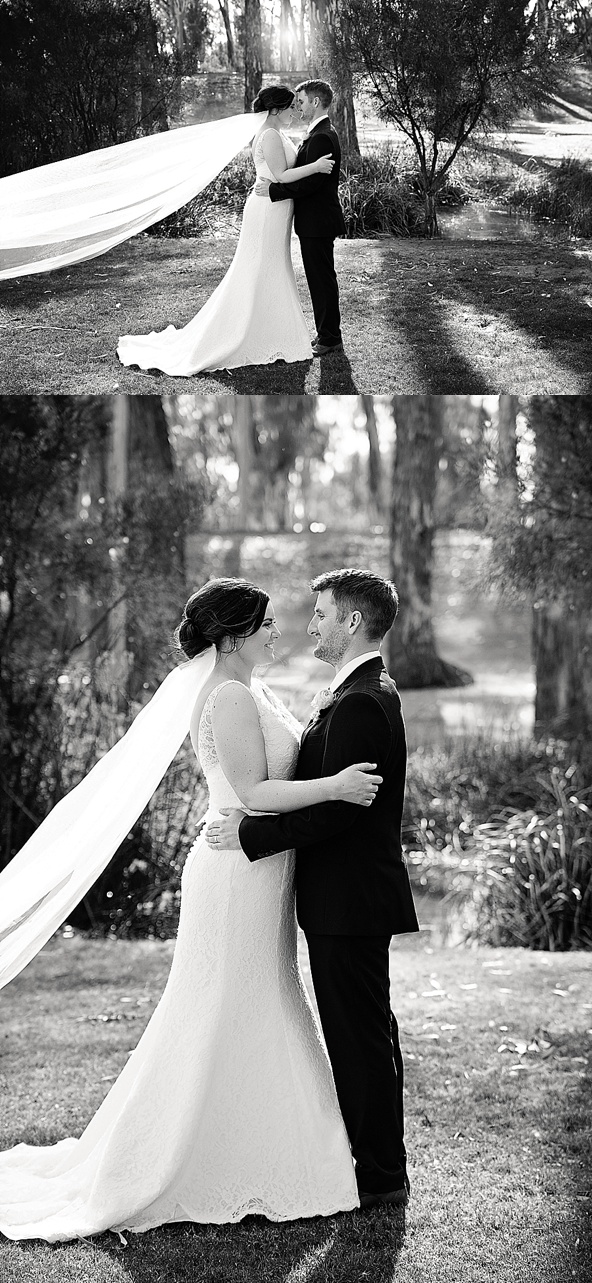 These guys were all just naturals!
When we had finished with the portraits, it was time to head to Radcliffe's, where the reception was about to start. If you haven't been to Radcliffe's… You have to! This place is AMAZING! It is a restaurant in the heart of Echuca, that has an old warehouse at the back that is literally dripping in vines. It's like nowhere else.
No detail was left unthought of. Everything looked stunning.
And with that, it was time to be introduced…
Mr + Mrs Watt!!!!
The mood was electric, and everyone there so clearly loved and respected these guys. It was so lovely to see.
Once the cake was cut, and the speeches had been shared – It was time for the first dance. And I have to say, my favourite weddings are the ones where everyone gets up to dance after the newlyweds have finished, and don't leave until close. These guys busted out some moves on the d-floor all night.
Kris + Meaghan, thank you from the bottom of my heart for allowing me to come on this journey with you! It has been an absolute and utter pleasure getting to know you both, and your families.
Big Love, Leah
~ xoxo ~
---
The other rad vendors involved:
Photography – Me, me, me!! (If you want to see more fun weddings, click here)
Ceremony Venue: Aquatic Reserve, Echuca
Reception Venue: Radcliffe's
Celebrant: Vicki Coghill
Dress: Luv Bridal
Suits: Grant Rule Menswear
Hair: Mintme 
Makeup: Blair-Maree Teasedale
Band: Tom Tuena
Flowers: Wallingford
Cake: Sweet Spot Cakery
Signage: Le Jour Papier
Place settings: Wooden letters Australia