Sutton Grange Wedding
Dave + Shannon
From the get go, Shannon was so relaxed and calm when we were talking back and forth about the details of their wedding day. And it didn't take long to realise Dave was the same when I went out to their home to meet them to discuss all the finer details. I was so stoked when they asked me to be their photographer, because I could see the love and respect they have for each other.
Dave + Shan have been together for 15+ years, and have a Son together already… But you can't rush a good thing, hey Shan?!
---
I started off with the girls at the *stunning* Fountain View Apartments in town, where the girls were getting the final touches on their hair and makeup and generally just have a good laugh. The mood was awesome, and I remember vividly walking in and immediately feeling welcomed and at ease. It's a really hard thing as a Photographer to walk into a group of people who are tight and known each other for years, and be seen as a person (not just the photographer) – But Shannon, Erin & Lauren made me feel like I was a part of their friendship circle and I'll always be so grateful for people like them.
The vibe was seriously just… beautiful. So many laughs (Thanks Ez!) and it wasn't until we were about to leave that I started feeling some nervous vibes from Shannon, but she was all smiles and laughs and you could literally see the happiness beaming from her face.
Off in style in the Limo, we set out for Sutton Grange Winery where the ceremony would be held. It was an overcast day, but really mild in temperature. When we got to Sutton Grange, the couple opted for a 'First Look', so we did that down by the lake, and it was so beautiful.
Once we had captured the First Look, Dave + Shannon wanted to travel up to the top of Mount Alexander because it was there that Dave had proposed. We hiked through the bush for a short while and came to 'The Spot' and my GOSH – What beautiful panoramic views of Bendigo!!
Ahhhh, so STUNNING!!!
With the First Look and portraits done and dusted, it was time to do this thing. For Dave + Shannon to get married!
Shannon was walked down the aisle by her Dad, and just as the ceremony started… So did the wind. It was OK to start with, but by the end, we had to seek solace in under the verandah of Sutton Grange for a quick break before finishing the formalities.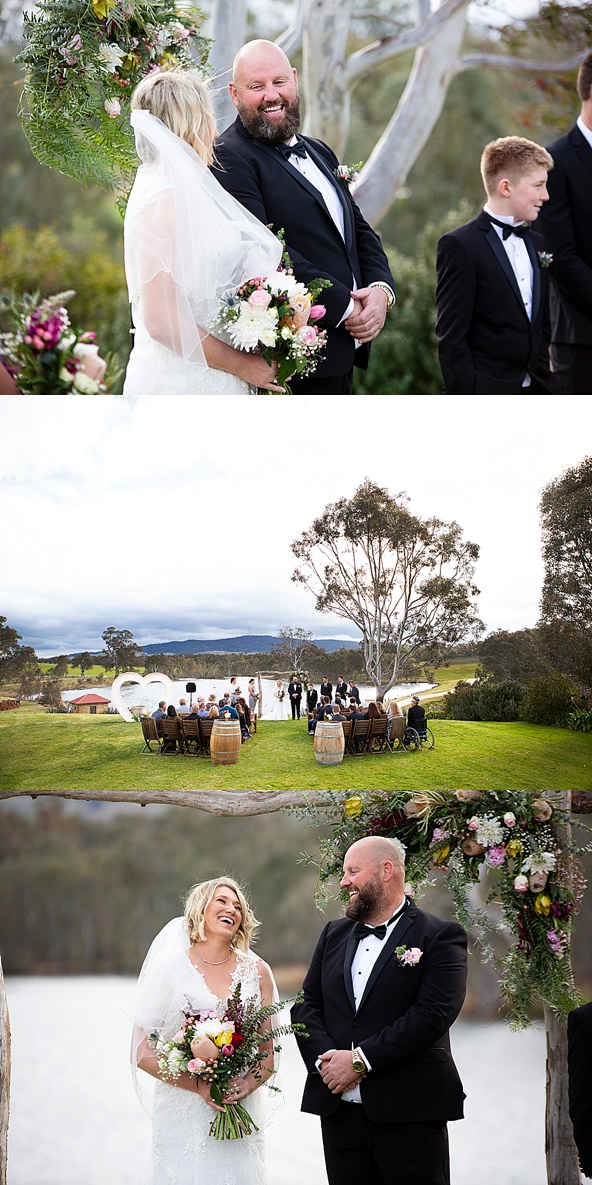 While everyone else stayed in the comfort of the bar with the fire roaring, Dave + Shannon braved the winds again with me to make the most of their beautiful L-O-V-E signs they had hired.
The reception area was set up so beautifully, and such a nice retreat from the cold outside, and as the newlyweds were introduced they went straight into speeches to get the formalities out of the way!
And with speeches done, it was time for the party to start and I set up my position at the Photo Booth.
Guys… Thank you so much for inviting me into your circle for the day. Your love for one another is so evident and I feel privileged to have been the one to capture it all for you!
Big Love, Leah
~ xoxo ~
---
Wedding Vendors:
Photography: Me! (Click here to see more weddings!)
Venue: Sutton Grange Winery
Dress: Bendigo Bridal Collections
Suits: Peter Anthony Menswear
Flowers: Vogue Nature Florist 
Celebrant: Michael Anderson 
Cake: Blackbird Cakes
Signs: Light It Up
Hair: Hair House & Beauty Lounge (Sara)
Makeup: Kin Skin & Beauty (Amy)
Limo: Oz Limo's