Daylesford Wedding Photographer
Demi + Adrian
Probably the most unique part about this wedding, was that NO ONE knew the location!
All of Demi and Adrian's guests where invited to their wedding… And told to hop on a bus in Bendigo to be whisked away to a top secret location.
I am utterly in love with this concept, and the way these guys made their wedding day exactly what THEY wanted.
---
I have to say, I felt a huge responsibility knowing all the details of the wedding and making sure I didn't ruin the surprise!!
You see, I have known Demi for over a decade, and we share some of the same friends – So it was so difficult making sure I didn't give away any details… Even when probed (I'm looking at you, Steph!)

So, I met the girls at the front of the BEAUTIFUL Lavandula Swiss Italian Farm, in Hepburn Springs.
It was just Demi and her girls.
While Demi was looking pretty composed, that quickly unravelled when one of her Bridesmaid's handed her a letter from Adrian.
"Fuck! I hate surprises" was her first response. I laughed and watched her as she wiped a tear from her eye. Adrian knows she doesn't like surprises, so thought he better let her know so it wasn't a total surprise… He was going to sing her down the aisle.
GAHH!
While the guests were treated to lavender flavoured sparkling, Demi gathered herself with some calming words from her Dad and her girlfriends.
Demi and her Dad walked hand in hand down the long aisle, and the closer she got the more emotions started to flow.
I must admit, I too was wiping away the tears – Trying to compose myself and shoot these beautiful, once in a lifetime moments.
The ceremony was perfect.
They were both just SO happy to be there.
Doing it their way.
Being all lovely.

As the couple had requested not to go away for any portraits after the ceremony, I made sure I got some real pearlers during the ceremony.
And I've told you guys before about my favourite part of the wedding… When the witnesses are signing the marriage certificate, and the Bride & Groom have those few moments to themselves ('cept me of course – I'm always watching!)
While the guests congratulated the newlyweds, the party was getting set up just over the lavender bushes and in a clearing where there were tables lined with white umbrella's. A rustic handmade bar where the staff served lavender flavoured sparkling and craft beers. The grazing table with the most beautiful, locally sourced foods ready to be devoured. The old school brass band that was playing jazz. Ahhh, All. The. Feels.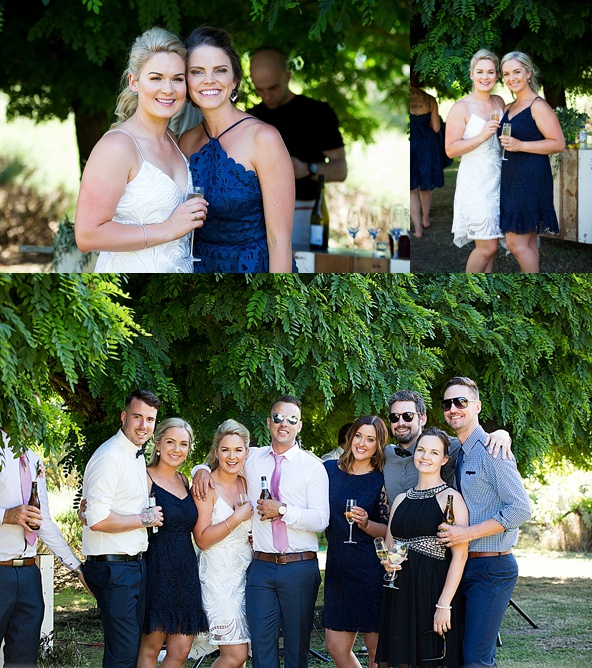 The couple mingled with their family & friends for a couple of hours, until dinner time. Where the yummiest looking salads and paella appeared on the table.

Lavandula really do know how to put on a feast!
While everyone was seated, it was time for speeches.
We heard all about the shared common goals the two have, how hard working they are, their love for their fur babies, their plans for the future.
(And also, about Adrian's love for boobs, ha!)
As you can see by the faces… These speeches were right up there!
There were tears of pride, tears of joy, tears of happiness – Everything you want when it comes to a wedding speech! No dull speeches here!
Just before I set off, the dessert table was announced. As well as the caravan bar…. and the hand selected, and themed cocktails Demi + Adrian had designed just for their wedding. They included:
KOWALderflower Bubbles (light and refreshing)
Pelly's Pimms (not so strong, throw 'em back)
Adrian's Aviation (Strong! proceed with caution)
As they were referred to on their custom designed drinks menu!
(I heard on the grapevine that Adrian's Aviations were in fact VERY strong, and there were a few who enjoyed them a little too much!)
Demi and Adrian? Thank you guys! For putting on THE coolest wedding party, for being massive legends… and for inviting me along for the ride!!
Wishing you all the love and happiness in the world!
Big Love, Leah
~ xoxo ~
---
Vendors:
Photography: Me! (Click here to see more fun weddings!)
Venue: Lavandula Swiss Italian Farm, Hepburn Springs
Celebrant (who also helped Adrian sing Demi down the aisle):  Rosemarie Farrell
Hair:  Jodie McLeans Hair Design
Makeup: Demi herself (Akemi Beauty)
Dress: Melissa E Bridal
Caravan Bar: The Melbournian Caravan Bar
Jazz band: Moodswings
Acoustic: Jord Allen